---
The Never Fade Enchanted Rose Represents love and Faith FOREVER!
Great for home decor. Would Look Amazing anywhere you want. The perfect gift for valentine´s day. Our Galaxy Enchanted Rose created a comforting feeling in the house when you spend time with yours loved ones.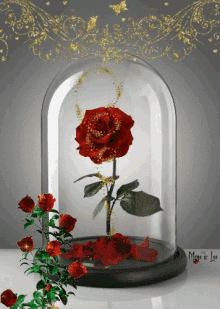 Fill with 20 LED fairy light. 
Encased by a glass Dome. 
Creates a warm ambient light. 
Features a charming base. 
Expressing your love for that special someone uniquely and elegantly! To add to the beauty of a Enchanted Rose, the never-fade perseveration dome represents all the efforts made between you and your significant Other to preserve the beauty of what you have together!
Giving to a friend or relative as a nice reminder of your appreciation.
Or even as a gift to your self as a tasteful and unique lighting solution!
The Magical Rose
The magical glow of this iridescent rose won't cease to mesmerize the one you gift it to. What makes it even more special are the gorgeous fairy lights surround it, filling the air with a soft glow when lit
Note: The product needs 3x AAA batteries, those batteries are not include.